Visit Our Calgary Locations
Automaxx is proud to be serving Calgary and the surrounding area for over 25 years! We are one of Calgary's largest and longest-running pre-owned car dealers in the city and proud of it!
We're thankful for all the support over the past 25 years and look forward to many more to come. Thanks to the great people of YYC and the terrific feedback we've received, we expanded to Red Deer as well. Our Red Deer location will also serve Edmonton and Northern Alberta.
Why Should I Buy a Used Vehicle?
There are many decisions to make when it comes time to purchase your next vehicle. One of the biggest and first questions is buying new or used. Pre-owned vehicles provide you with many benefits without spending premium on a new vehicle. Some of the best reasons to purchase a used vehicle include:
Minimal Difference Between New and Used Cars
Modern technology and developments have even somewhat dated vehicles feeling like marvels of the future. The first few years of a vehicle's life won't differ too much from the rest. Depending on how long it's been since you've purchased a newer vehicle for yourself, you may be surprised at all the new features modern vehicles come standard with. These new features include backup cameras, superior audio systems, oversized infotainment touch screens, and driver assistance features. It's more advantageous to let someone else take the hit of spending premium on owning a new vehicle. This way, you can spend significantly less money and enjoy a like-new vehicle.
Similar Coverage and Warranties
New vehicles come with manufacturer warranties to cover you if something breaks or goes wrong. But did you know that these warranties and coverages last long into the vehicle's life? This means that when you buy a pre-owned vehicle, you often get the same coverage and remaining factory warranty. Plus, we offer comprehensive warranties and coverage when you purchase from us.
If anything does happen to your vehicle, we have a state-of-the-art service bay with expert technicians to help you with routine maintenance and repairs.
More Affordable Payment Plans
New vehicles come at a premium price. This means a higher monthly payment and loans. You can instead purchase a pre-owned vehicle with very similar features for a fraction of the cost. Additionally, you will not lose value on your vehicle as soon as you drive it off the lot. The first two years of a vehicle's life depreciate it the most. After that, it depreciates at a much lower rate. Purchasing a vehicle that is a couple of years old can save you 20% without missing out on key features and amenities.
Contact Us Today
Whether you're looking to sell us your vehicle or shopping for yourself, we have a friendly team here waiting to help you. We've been in business for years, helping our communities find affordable cars that they love. We have three convenient locations to better serve you. In addition to our used vehicle lots, we also provide:
Financing
Pre-Approval
Free Credit Checks
Professional Service Bay
Large Indoor Showroom
---
Automaxx Superstore
--- off 32nd ---
*AMVIC Licensed Retail Dealer
---
Automaxx (16th Ave)

--- off 16th Ave NW ---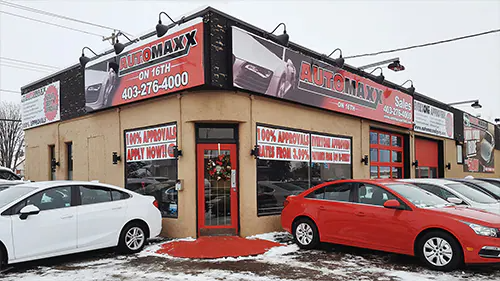 *AMVIC Licensed Retail Dealer
---
Automaxx (Red Deer, AB)
--- off Gaetz Ave, West ---