Thinking of Financing a Car but Unsure Where to Start?
At Automaxx in Calgary, Alberta, CA, we have a dedicated team with plenty of auto financing solutions available to help you get into your next vehicle. Whether you have good credit, bad credit, or no credit at all, our high approval rates are nearly guaranteed to get you approved and into a vehicle in as little as just a few hours, all thanks to our same-day auto loan financing options. We are committed to working with you to finance the vehicle that perfectly suits your lifestyle, your budget, and your needs.
The Benefits of Financing Your Next Vehicle
You can't overlook the many benefits of financing your next vehicle. With Automaxx, you'll have access to several favorable advantages that are sure to enhance your car buying experience. Our amazing financing specialists look forward to helping you discover more about these incentives involved in our auto loan process:
   
Build Your Credit - You will improve your credit score as long as you make your payments on time.
   
Own the Vehicle - Unlike leasing a vehicle through a dealership, you will own the vehicle once all the payments are made.
   
Flexible Terms - Your financing plan will be tailored to fit both your budget and your needs and will be based on the circumstances of your current credit situation.
   
Optional Cash-Back Incentives Up to $10,000 - Optional cash-back incentives can help you pay down and consolidate existing debt quickly by adding it to the total cost of your car loan - unless you'd rather have the extra cash in your pocket.
   
No Money Down - The option for no money down on your used car auto loan is possible on approved credit.
   
Zero Payments for Six Months - The option to defer the first six months of payments is available upon approved credit. This defers your first payment when you need a vehicle right away but need time before you can start paying for it. Interest begins on the date of the contract.
   
Bad Credit or Bankruptcy? - Doesn't matter. We see it all the time and can work with you to get the best auto loan, whether you have bad credit, are going through a divorce, or are dealing with bankruptcy.
Forget Everything You Know About Financing a Used Car
We are partnered with more lenders and programs than most dealers. We'll get you approved for an auto loan with the best rates and payment options available. Our skilled financing specialists work hard to develop a financing plan entirely custom-tailored to your financial status. With an exclusive credit building program, a wide range of interest rates and finance terms, credit consolidation solutions, payment plans well within your budget, and a large inventory of pristine quality preowned vehicles, we'll have you behind the wheel of your next car in no time. You can forget everything you knew about financing a used vehicle - our world-class finance department at Automaxx in Calgary will walk you through every step of our flexible, hassle-free auto loan financing experience. Contact us today to get started.
Let's get you started by filling out ourEasy 30 Second Secured Credit Application!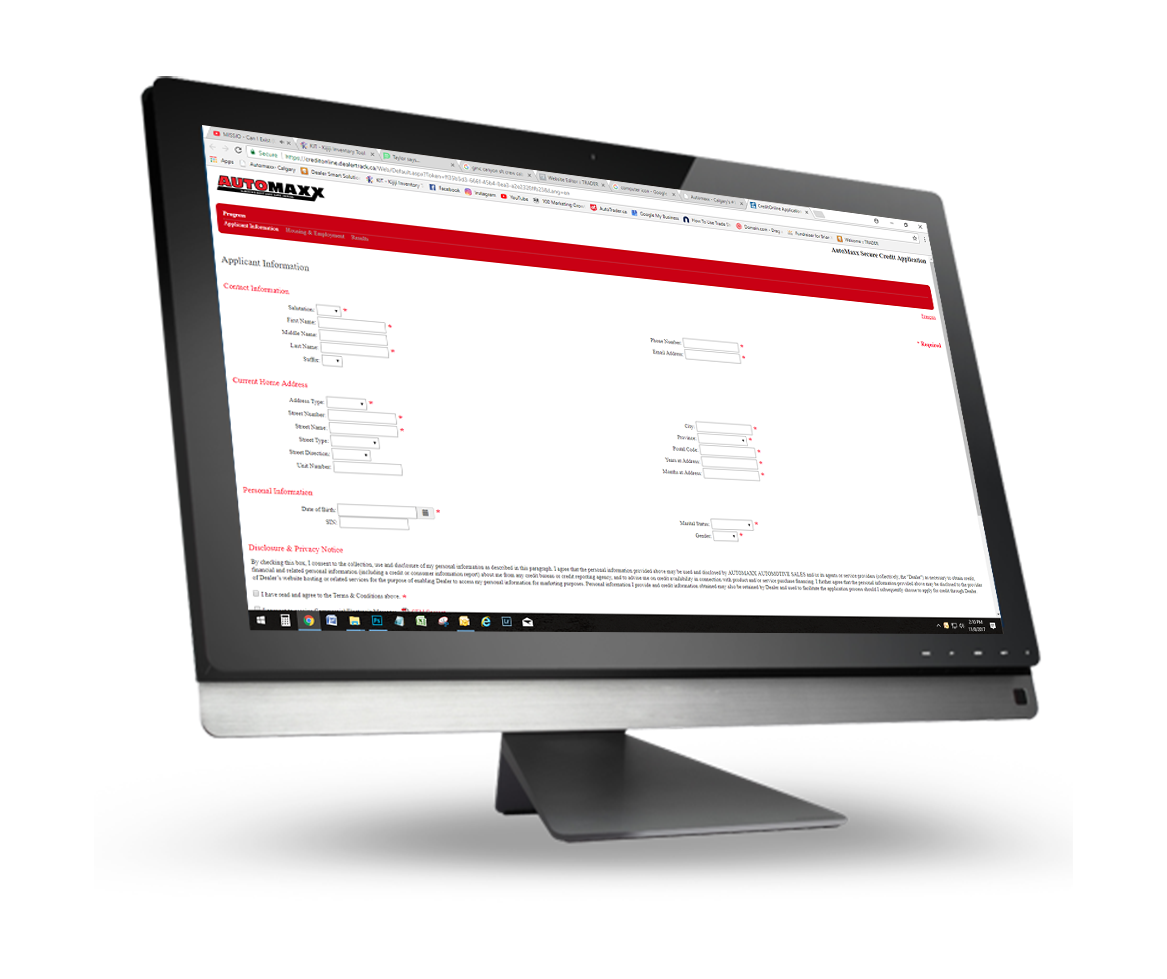 ---

Not looking to apply just yet but have some questions for us?  Let us know by filling out the form below and someone will be in touch with you shortly!